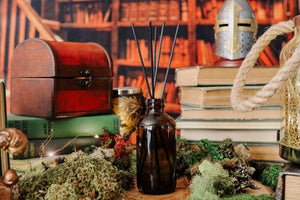 ✨ ALL NEW ✨
Experience year-round fragrance bliss with these flame free, hassle-free fragrance diffusers. Our reed diffuser comes in a gorgeous amber glass bottle that will blend seamlessly with any decor.
Each bottle contains 8oz of premium fragrance oil, available in our most popular Mythologie fragrances.

Everyone who steps into your home will want to know, "What is that AMAZING aroma?"
What makes our
Reed Diffusers Unique?
Every single one of our reed diffusers is hand-poured in small batches and packaged with love for the ultimate immersive experience! Clean, phthalate-free essential oil & fragrance blends provide the perfect ambiance to transport you to fantastic worlds. Combine that with one of a kind fragrances inspired by fantasy, history, and TTRPGs, and you'll be able to journey to magical lands and exotic locations without leaving the comfort of your home or office-- all without a flame!